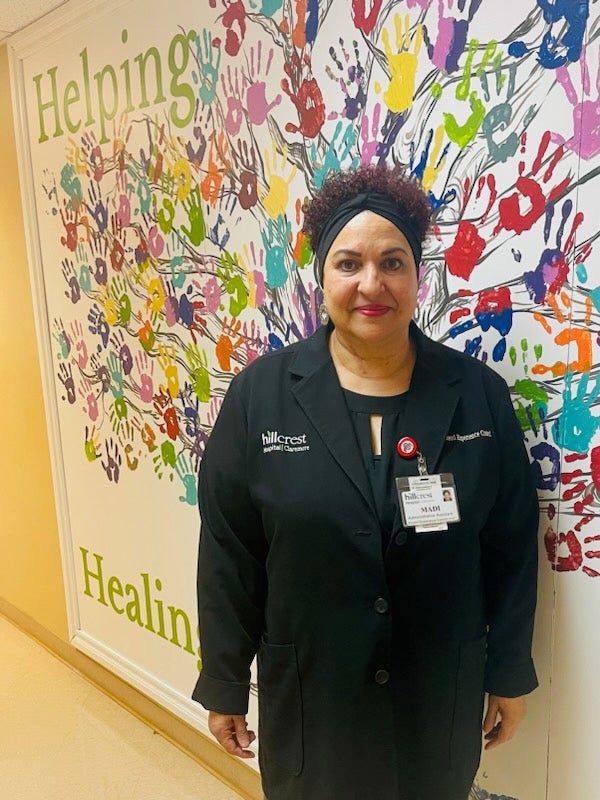 During Patient Experience Week (April 23-29), we're spotlighting patient experience coordinator Madi Rodriguez! Rodriguez has been with Hillcrest Claremore for more than eight years. Before joining Hillcrest, she worked with the Head Start Program in New Jersey. Rodriguez moved to Oklahoma in 2014.
In her role as PX coordinator, Rodriguez visits all the facility's patients to make sure they're satisfied with their hospital stay. If there are any issues, she brings them to the attention of upper management so they can be addressed. 
Rodriguez said the best part of her job is working across departments with many other employees.
"My favorite part of the job is working with the nurses, nurse assistants, unit secretaries, managers, PT, RT, case management and others because I feel we work as a family unit to meet the patients' needs," said Rodriguez. "I cannot ask for better people to work with. The staff are the backbone of patient care, and I cannot say enough about them."
Her goal is always to make patients as comfortable as possible within the walls of Hillcrest Claremore.
"I try to put myself in the patient's place. I know some patients feel alone or scared and if they need a hug, I will hug them," said Rodriguez. "If they need someone to hold their hand, I will hold it. If they are cold, I will get them a warm blanket."