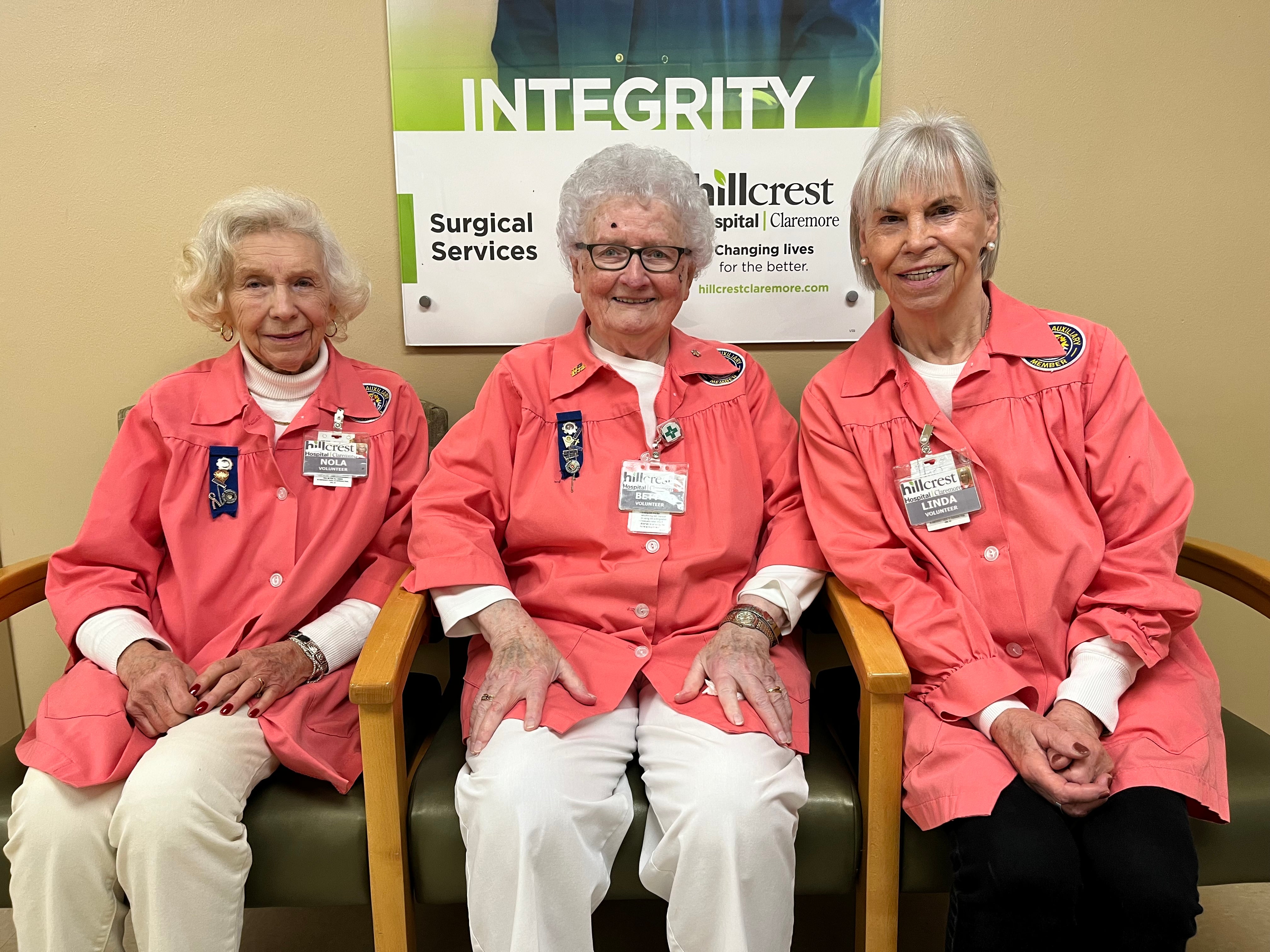 If you go to Hillcrest Hospital Claremore, you'll likely see volunteers in pink uniforms. One of those volunteers is 90-year-old Betty Oldham (pictured in the center). After starting her nursing career in the 1950s, Oldham is still walking the halls of the hospital. She volunteers with the group of "pink ladies" who help in the gift shop, refresh waiting room magazines and staff the information desk.
"We take the cart around to all the waiting rooms and we take the magazines, put them in folders and sanitize all the folders," said Oldham. "We make sure that all the magazines are current."
Dava Baldridge, chief nursing officer at Hillcrest Hospital Claremore, said the volunteers also help patients and their families feel welcome and uplift hospital employees.
"They interact with our patients and at times are the first person a family member meets. They greet patients and family members as they enter our waiting areas," said Baldridge. "They are willing to assist with purchasing of equipment such as wheelchairs and provide nursing students with scholarships."
After attending nursing school in Tulsa in the early 1950s, Oldham worked at a Tulsa hospital for about 10 years. When she had her fifth child, she stayed home for the next 25 years raising her children.
Oldham returned to nursing at Hillcrest Claremore in 1986. She worked on a med-surg floor for 17 years and loved every minute of it. That motivated her to return as a volunteer in 2006.
"The folks that I worked with were superb. I worked night duty, and we had the best of the three shifts. They were just wonderful people," said Oldham. "I am very hospital orientated. Nursing was my first love."
The Pink Ladies volunteered about two days a week before the pandemic, but the hospital suspended their volunteers for safety while COVID-19 was at its peak. During that time, Oldham was even a patient herself at Hillcrest Claremore.
"The coronavirus about got me, and I've still got deficits from it," said Oldham. "I was in the hospital here for two weeks and then they transferred me to rehabilitation for two weeks. And then I went home."
With five children, 14 grandchildren and several great-grandchildren, Oldham is inspiring the next generations of nurses. Her daughter is a certified medical assistant (CMA) and two of her granddaughters are nurses.
"They wanted to be like their nanna," said Oldham. "I just love to take care of people."
Oldham is still giving back to the hospital she loves. She turns 91 in June 2023, and intends to keep volunteering for as long as she can.
"It's been a wonderful place to work," said Oldham. "I just love nursing, that's all I can say."
"It means a great deal that these volunteers are willing to give their time each week to help our staff, patients and their families," said Baldridge. "They're so considerate and caring with a genuine passion for making a difference at our hospital."