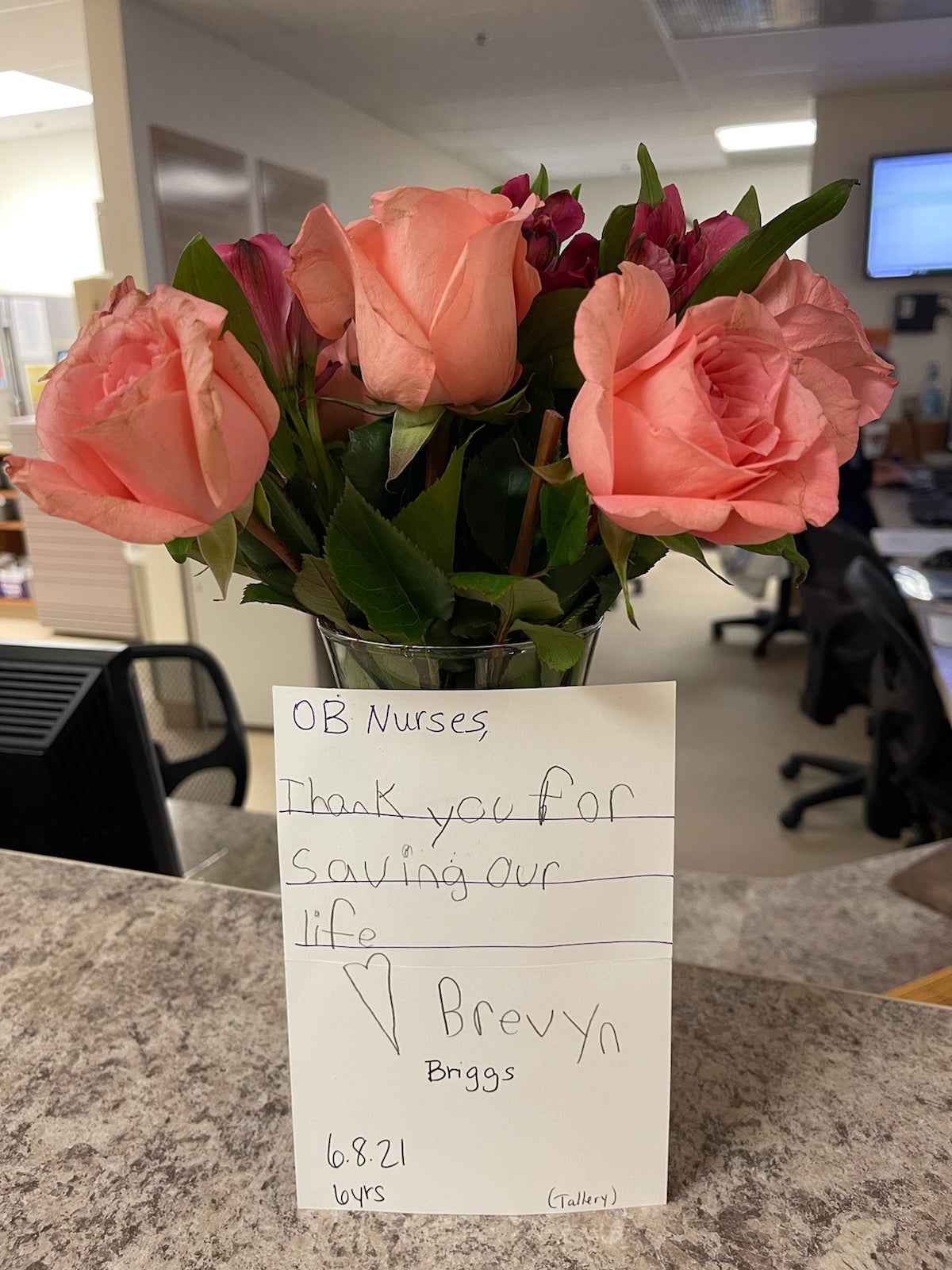 Tallery Briggs is thankful when June 8 comes around every year, an appreciation she and her son, Brevyn, share with some members of Hillcrest Hospital Claremore.
Tallery needed an emergency cesarean section to safely deliver Brevyn in 2015. Tallery also suffered from severe hemorrhaging and required a hysterectomy days later that proved to save her life.
Two months after their stay, Tallery and Brevyn returned to the Hillcrest Claremore labor and delivery unit, this time to show their gratitude for their recovery.
"I wanted them to know we were healthy and were very thankful for you guys," Tallery said.
Each year since, on Brevyn's birthday, both mother and son visit the OB unit to express their appreciation by bringing flowers to the team. In 2020, they were unable to visit on June 8 due to COVID-19 restrictions. This year, Brevyn, now age 6, included a handwritten note along with their hand-picked bouquet.
In the note he wrote, "OB Nurses, Thank you for saving our life. Love (heart shape), Brevyn."
While the pair plan to continue to show their appreciation every year for the foreseeable future, Tallery said she is thankful for Hillcrest Claremore on a regular basis.
"Honestly, I feel so grateful, every time I stop by there or drive past that hospital," she said. "We're just showing our act of kindness and our gratitude for the job they do and doing what God called them to do."
Kim Wiseman, Hillcrest Claremore OB manager, said the Briggs' annual visit brings a smile to the labor and delivery unit as well.
"Our unit is truly blessed to care for patients on one of the most important days of their lives," Wiseman said. "We take our jobs very seriously and for most patients it is a wonderful and joyous experience. However, for some it can be scary and that is when we can help to eliminate their fears by letting them know everyone here is experienced in handling any type of emergency that may come up. For them to remember us every year means we helped them have a positive outcome and that is exactly what we strive for."