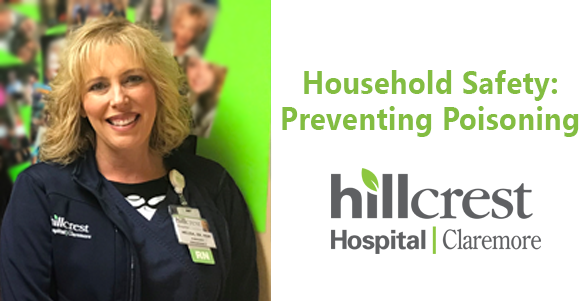 National Poison Prevention Week is the perfect time to evaluate your home for potential poisoning sources and ensure that dangerous substances are being stored and used safely.
The threat and danger of poisoning is only an arm's-length away.
"While the most common source of poisonings seen in Hillcrest Claremore's ER are opioids, there are plenty of other risks," says Emergency Department Manager Melisa Daugherty. "We also see small children with overdoses from household chemicals and over-the-counter medications such as Tylenol and Ibuprofen."
There are steps that can be taken to prevent poisonings in the home and to be prepared to act if poisoning is suspected.
Daugherty offers the following tips to keep your family and friends safe from poisoning:
1.       Educate yourself – the Oklahoma Center for Poison & Drug Information offers a variety of helpful information and excellent resources to help protect your family and pets from chemicals, plants, medications and other potential hazards.
2.       Read the directions before using any household chemicals.
3.       Follow the directions provided with the product.
4.       Keep chemicals in their original containers to prevent mistakenly using the wrong product.
5.       Discard outdated products.
6.       Designate a safe place for all of your household chemicals that can't be accessed by children or pets.
7.       Also keep medications (prescription and over-the-counter), choking hazards and even plants and seeds out of the reach of children.
8.       Never mix pain medicine with alcohol, antihistamines, barbiturates, benzodiazepines, any sedatives or muscle relaxers. These drug combinations can cause severe breathing difficulty and death.
9.       Take medications only as directed. Never give anyone else your own prescribed medications or take someone else's.
10.   Save the Poison Control phone number, 800-222-1222, in your phone and write it where it can quickly be found – they are open 24/7 and are free to use.
"As always," Daugherty says, "the emergency department at Hillcrest Claremore is here and ready 24/7 if you are in need of any help."
In the event of an emergency, dial 911 immediately.