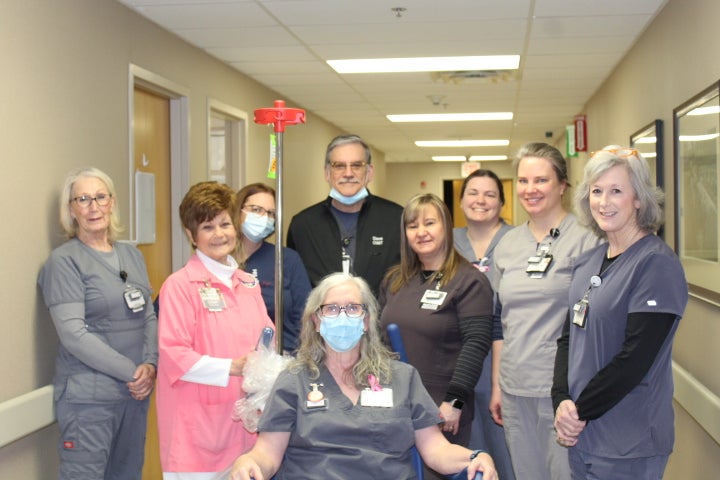 Hillcrest Hospital Claremore's auxiliary volunteers recently purchased a patient transport chair for the hospital's radiology department. The group bought transport chairs for out-patient surgery, the emergency room and med-surg departments in the past.
The volunteers routinely supply items like those chairs through fundraising efforts. Most of the funds come from gift shop sales, but the ambitious volunteers also host silent auctions and Bunco parties and sell nuts and treats. 
Dorothy Naumann is the volunteer coordinator at Hillcrest Claremore. She said these chairs are already making a significant difference for both patients and staff. Patients also do not have to leave the chair to be x-rayed thanks to its flexible, moveable parts.
"The chair moves easily, even with all the equipment attached," said Naumann. "This requires less physical effort for the staff, and they can proceed to the needed procedure without feeling exhausted. Patients regardless of size or condition ride in more comfort."
Naumann said staff members are thrilled with the chairs, and the volunteers are thrilled to supply these tools to health care providers to make their jobs easier.
"The volunteers are more than happy to do the work necessary in fundraising to supply this - and other needs for the hospital," said Naumann. "Volunteers volunteer because they need a sense of purpose and belonging, of doing a job with a meaningful end result."