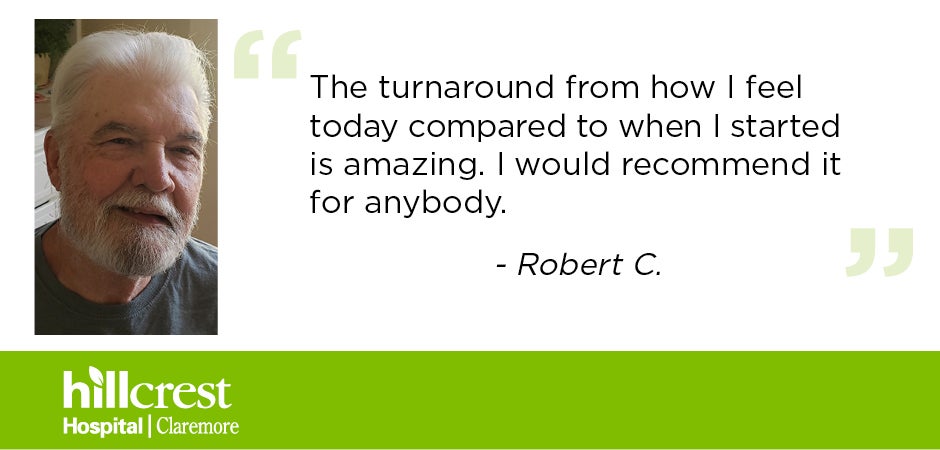 Following a quadruple bypass procedure, Robert Copeland was skeptical when it came to the next steps in his recovery. Thanks to the Hillcrest Hospital Claremore cardiac rehabilitation program, he feels more confident in his future.
"It was really good," Copeland said. "I hated to see it end."
The cardiac rehab program is a monitored exercise and education program that the patient is referred to after a cardiac stent placement, heart attack, cardiac bypass surgery, heart valve surgery, heart transplant or for a congestive heart failure diagnosis. The patient attends three days a week for 12 weeks.
Copeland said the progress he made from the cardiac rehab program helped him improve both his physical and mental state.
"Northeast Oklahoma is lucky to have a program like this," he said. "From beginning to end, they show the utmost concern for each of the patients. They're gentle, but firm and have an underlying professionalism about them. They never push but keep you improving. The turnaround from how I feel today compared to when I started is amazing. I would recommend it for anybody."
Angela Messimore, RN, with the cardiac rehab center, said the program offers a comprehensive approach to caring for patients during the recovery process.
"We give the patients guidance and encouragement during the program," Messimore said. "We are there to answer any questions that may arise. The staff and patients become a tight-knit group during their three months in the program and it is wonderful to see how much the patient accomplishes during that time frame. It makes us feel proud of the patients and proud of our program. Our ultimate goals are for the patients to continue with exercise and a heart healthy lifestyle after discharge."