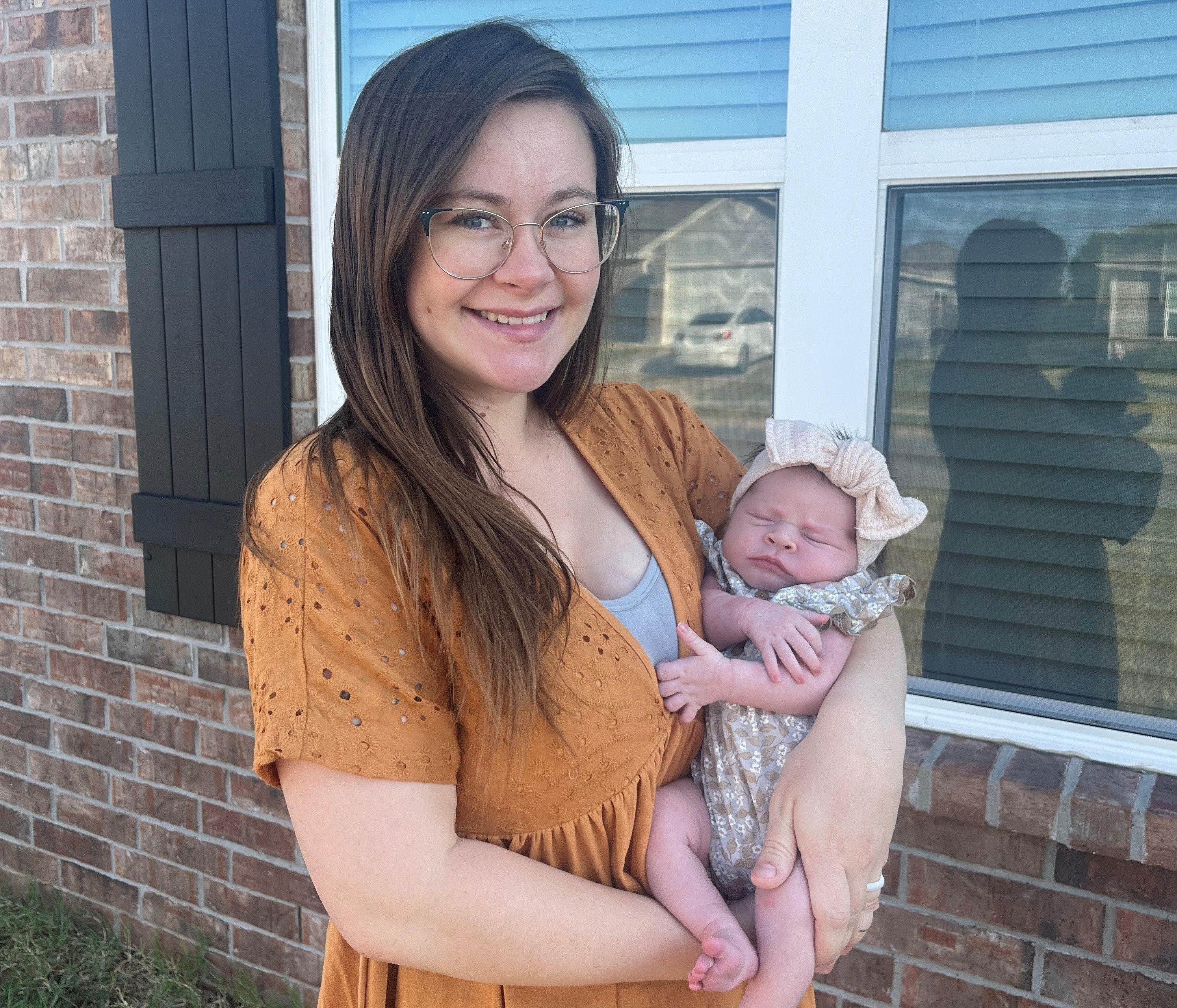 Reegan Smith and her husband, both newcomers to Oklahoma, originally had their sights set on an at-home delivery for the birth of their first child. But when circumstances changed, the family was thankful Melinda Steelmon, D.O., and Hillcrest Hospital Claremore were there to provide a calming experience during a chaotic time.
"I felt so cared for by the Hillcrest nurses," Smith said. "Every single person I interacted with was an absolute angel. I could have had a more traumatic mental experience if I didn't have the Hillcrest staff with me. They made a world of difference."
The Smiths moved from Los Angeles to Claremore in mid-July, 36 weeks into her pregnancy. Smith, a teacher, and her husband, who works in construction, were looking for a change of scenery. Her sister-in-law had moved to Claremore in December 2021 and had glowing reviews, so the Smiths thought they would make the move to the Rogers County community as well.
Regarding the upcoming birth of their child, Smith had booked some midwives out of Tulsa.
"I was really excited," she said. "I had my heart set on an unmedicated childbirth and a very hands-off experience. I wasn't sure my wishes would be respected for a hands-off birth at a hospital."
Plans changed, however. The baby's position was not in an ideal spot as Smith's labor crept past the 36-hour mark.
"My labor was so incredibly painful," she said. "The midwives encouraged me to get an epidural. I didn't want to, but there was no other option. I was scared, but at that point, I was just thinking let's get this baby out."
The Smiths had complications with insurance, so she was unable to set up primary care before coming to Oklahoma. Instead, one of her midwives called the emergency room at Hillcrest Claremore. Steelmon, an obstetrics and gynecology specialist, happened to be on-call that day. After being updated on the situation, Steelmon and the care team leapt into action and soon were able to comfort Smith.
Once her pain medicine began to take effect, Steelmon asked Smith if there was anything she needed. Smith requested a popsicle. Unable to find them at the hospital, Steelmon took it upon herself to go to a store nearby and bought Smith a popsicle.
"I was so incredibly touched by that little act of kindness," said Smith, who also lauded her entire team care team. "Dr. Steelmon was just incredible. She was super soothing. She understood I had all these plans and told me she wasn't just respecting my wishes, she was encouraging them. Everyone was so good about just moving things along."
On Aug. 17, 2022, the couple welcomed their healthy baby girl, Hosanna, into the world. Smith said when the time comes for another addition to the family, the Smiths know where that delivery will take place.
"They gave me such great attention," said Smith, who recalled sharing both newborn photos and pictures of the couples' new home with hospital staff. "It was like we were the only ones there having a baby, even though I know we weren't. I know I want my second child to be delivered there. There is not another place for me."