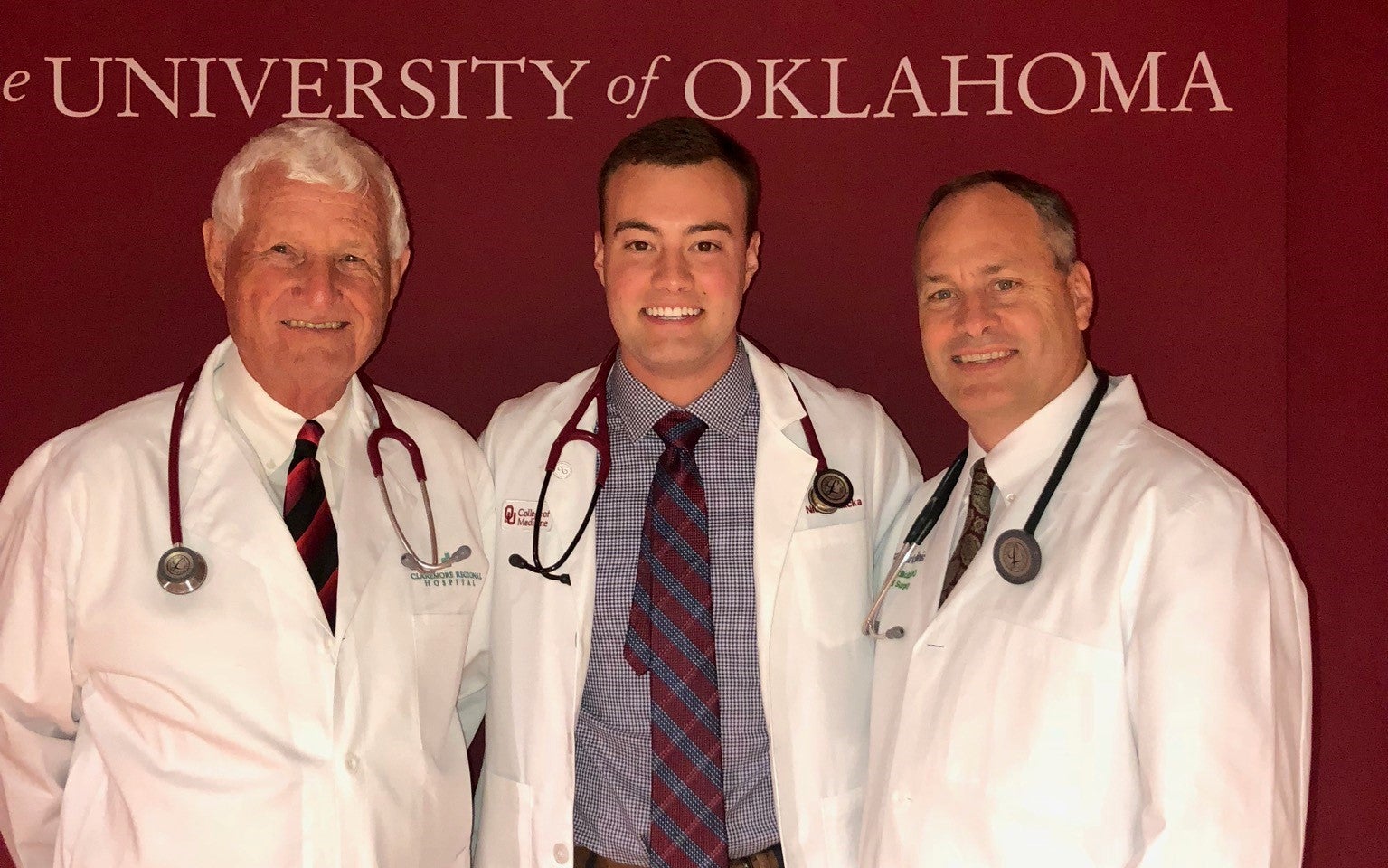 (March 30 is National Doctors' Day. Hillcrest Hospital Claremore would like to thank each of our physicians for the dedication and passion they display to their patients. In honor of National Doctors' Day, we would like to spotlight general surgeon, Kyle Hrdlicka, D.O.)
When searching for his career prospects, Kyle Hrdlicka, D.O., did not have to look beyond his own front door as a child.
Hrdlicka is now board certified in general surgery and fellowship trained in general vascular surgery with Utica Park Clinic in Hillcrest Hospital Claremore. Hrdlicka has practiced in Claremore since 2000, when he returned to his hometown to join his father's practice.
The field of medicine was prevalent in Hrdlicka's family. Along with his father, Hrdlicka's mother and older sister became nurses.
"(The medical field) is probably the direction you are most familiar with," Hrdlicka said about his childhood. "I was not a computer-oriented guy. I was not a math-oriented guy. I was always a science-oriented guy. I was always kind of attracted to that field."
Kyle's father, Larry J. Hrdlicka, M.D., holds the distinction as the first board-certified, residency-trained general surgeon in Claremore. The older Hrdlicka had a significant impact on his son.
"If he would have been an auto mechanic, I probably would have been an auto mechanic," Hrdlicka said of his father. "I always looked up to my dad. He was a very positive influence on me."
A 1983 Claremore High School graduate, Hrdlicka earned his Bachelor of Science degree in pharmacy from the University of Oklahoma College of Pharmacy, then obtained his medical degree at the Oklahoma State University College of Osteopathic Medicine in Tulsa. Hrdlicka completed his internship, residency and fellowship through Ohio University in Columbus, Ohio.
Hrdlicka returned to Claremore to join his father and Larry Young, M.D., in their practice, which allowed the young surgeon to soak up the wisdom that has proven to serve as the foundation for his career.
"You essentially come in and have that experience beside you. It's invaluable," Hrdlicka said. "Even when you come out of residency, you're on your own. Those first couple of years on your own can be overwhelming."
A member of the American Osteopathic Association, the Oklahoma Osteopathic Association and the American College of Osteopathic Surgeons, Hrdlicka joined Utica Park Clinic in January 2017. He has served on several committees at Hillcrest Claremore.
Since making the move four years ago, Hrdlicka said the transition from private practice to being part of a larger group of surgeons has been very beneficial.
"The added clinical support with being in a bigger group is important," Hrdlicka said. "The business support and removing stress from a business standpoint is good. I'm not the one doing the hiring and firing. I don't have to worry about payroll and those things."
Now a veteran surgeon himself, Hrdlicka appears to have passed his passion for medicine onto his children. His son, Nick (see included photo), is in his third year of medical school at the University of Oklahoma and has aspirations of joining the family business as a surgeon while his daughter, Paige, is an Oklahoma State University graduate and a physical therapy assistant