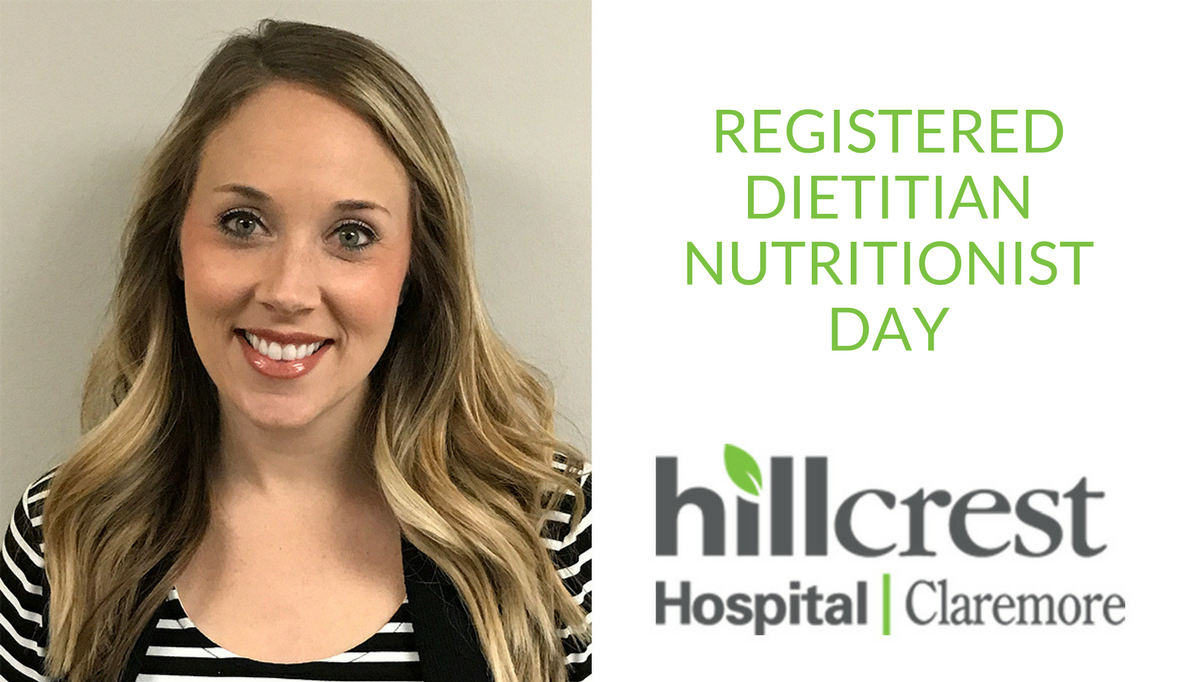 As we navigate life, many of us are focused on making better health choices. Whether you are aiming to eat healthier, trying a new workout routine, or a mixture of both, living a healthier lifestyle will provide short and long-term results.
Just in time to give us an extra boost on those New Year resolutions, Registered Dietitian Nutritionist Day has arrived to kick us into gear.
To help area residents improve their health and meet their wellness goals, Hillcrest Claremore now offers outpatient nutrition consultations with a dietitian.
Clinical Dietitian Brooke McIntyre RD/LD, CSO, CNSC, works with patients to design and maximize plans to meet their individual needs. Many major insurance companies offer coverage for diet education for obesity, hyperlipidemia, diabetes and other conditions. Call 918-342-6734 for more information.
We spoke with Brooke about the best ways to maintain a healthy weight. Read on for her top tips.
Meal Planning Is Key
Meal planning once a week is crucial. The heart of consistency and having a stable, balanced diet and weight maintenance is planning ahead. If you don't plan ahead then you may end up eating out or eating things around the house that you typically wouldn't eat for a meal. A huge component of meal planning is grocery shopping. Many grocery stores now offer online shopping that allows you to plan meals and order the foods in your weekly plan as you go. You can choose the time to pick up your groceries, making it quicker and more convenient than ever. A number of online services also offer weekly delivery of ingredients with corresponding recipes. Some have specific menus tailored to those with diabetes and heart disease. You can even reorder an identical order from the previous week or month to make it even easier!
Maintaining Weight
Weight maintenance is very much a mental thing. Try not to be so strict with yourself and give yourself some grace to still enjoy things. Whether it is your favorite dessert or dinner at your favorite restaurant, treat yourself to something once a week. Physical activity is also an important maintenance component as it can help with weight loss. If you are trying to maintain your current weight, physical activity can give you the extra calorie wiggle room to be able to enjoy things from time to time guilt free!
Match Intake with Exercise
When it comes to diets, no one size fits all. The specifics come down to genetics, current size, food preferences and goals. In any diet, a general rule of thumb is to consume less calories than you expend, making sure you are both physically active and watching how much you are eating.
 
Top 3 Foods/Ingredients to Avoid
1) High-fructose corn syrup and refined sugars
2) Trans fats
3) Processed foods
 
Detour from Food Ruts
Eating a variety of foods is important. It's easy to get hooked on the same things, so try to incorporate different foods whenever you can. "Eating the rainbow" is always a good rule of thumb to follow. Each color of fruits and vegetables represents different nutrients. Getting an adequate amount of fiber is also important, as it is beneficial for heart health, blood sugar control and weight management. And, always make sure you are not under-eating for an extended amount of time. Your body may ultimately "hang on" to those calories which can have negative impacts on metabolism.