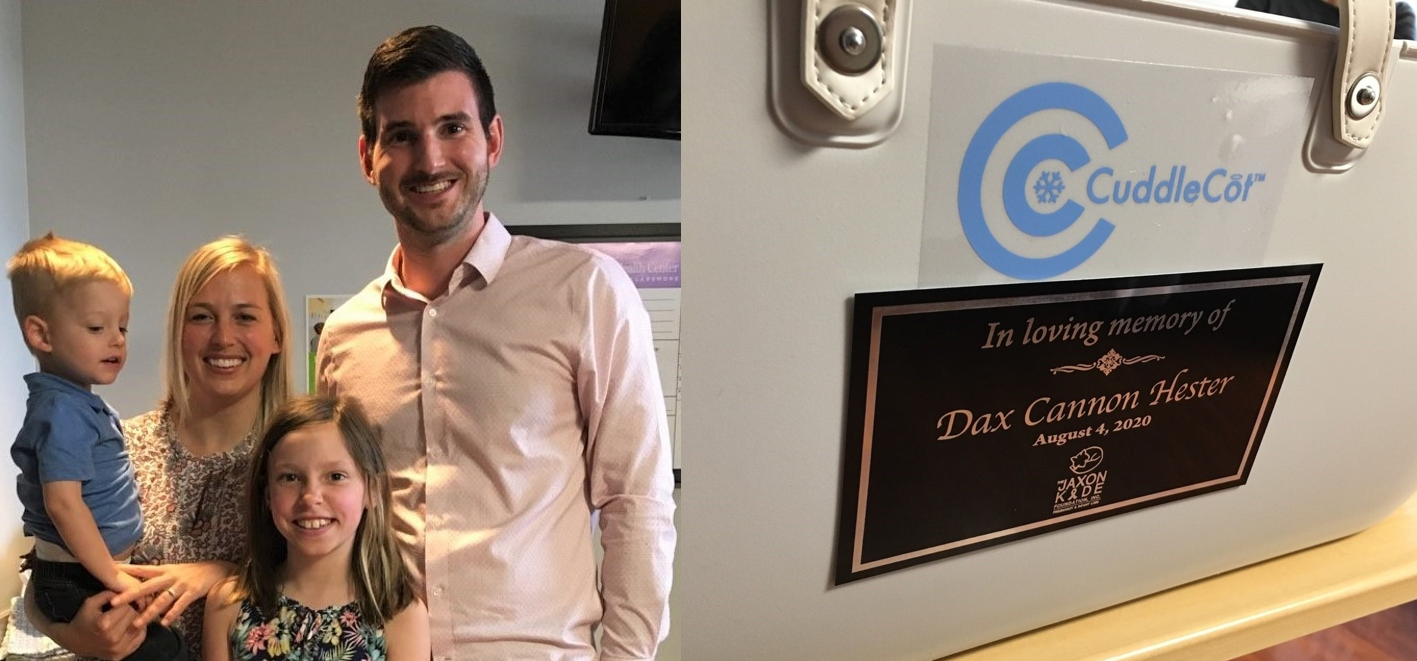 Stephen and Taylor Hester experienced every parent's worst nightmare, but now they are helping others to make the best of a difficult situation.
On Aug. 3, 2020, during a what was supposed to be a routine OB appointment, the Hesters were instead blindsided with the devastating news their expected baby boy did not have a heartbeat. The next day Dax Cannon Hester was stillborn at 20 weeks inside Bailey Medical Center in Owasso.
Following their tragic loss, the healing process was somewhat eased for the couple as they were able to spend eight hours with Dax due to a relatively new piece of equipment, a Cuddle Cot. The water-based unit works by lowering the body temperature of the baby, which slows down the decay process. The Cuddle Cot hooks into a cooling mat, which allows a family additional time with their baby.
"I didn't know what to expect, really, at the hospital," Taylor said. "We held him and they brought us this little cooling pad. We were so thankful to be able to have those eight hours with him."
The Hesters were so appreciative for a few extra moments with their son, they wanted to help other families have the same opportunity. They began researching the fundraising process for a Cuddle Cot.
"We got to hold (Dax)," Taylor said. "Normally that wasn't even an option for other people. My husband and I got home and started thinking maybe we should raise money so one can be donated. We started a GoFundMe account. We raised the money really quickly. It did not even take six weeks. It surprised me."
Taylor eventually got in touch with Brittany Martin, president of the Jaxon Kade Foundation, Inc., an organization that led fundraising efforts for several Cuddle Cots around the state, including the one at Bailey. Martin founded the nonprofit cause after losing three babies in the womb.
Martin alerted Taylor, a Collinsville resident, about the need for a Cuddle Cot, which costs approximately $3,000, at Hillcrest Hospital Claremore. On March 26, Taylor and Martin were on hand at Hillcrest Claremore for the Cuddle Cot dedication ceremony.
"We are so thrilled to have been given such a generous donation," said Kim Wiseman, Hillcrest Claremore OB nurse manager. "The impact something like this will have on so many families is unbelievable. You cannot change their situation no matter how much you want to; but giving them the gift of time can ease their pain and give them some sense of closure."
Taylor said the ceremony gave her reassurance about the donation.
"(The ceremony) was way more than what I expected," Taylor recalled. "The entire OB staff was in there. OB doctors were in there. And they were just so grateful. It was so overwhelming. It meant a lot to us and I could tell it meant a lot to them. This made it feel like (the Cuddle Cot) was the right place. They were so thankful."
The Cuddle Cot also includes a name plate and the words in memory of Dax Cannon Hester. Taylor said the most rewarding elements of the donation were knowing her son's legacy would continue to live on and helping other families spend time with their babies.
"It would be great if every hospital could have a Cuddle Cot," Taylor said. "I didn't know what it was until we were in that situation."
Those interested in the Jaxon Kade Foundation can find out more information on the organization's website, jaxonkadefoundation.org.