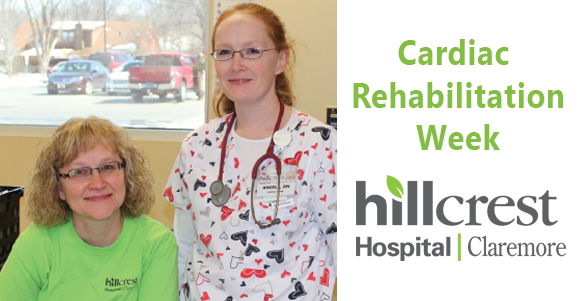 During Cardiac Rehabilitation Week, Feb. 10-16, we celebrate the role cardiac rehabilitation plays in reducing the effects of heart disease and express our gratitude to the dedicated team members of Hillcrest Claremore and Oklahoma Heart Institute who make it possible.
We spoke with program director Angela Messimore, RN, about cardiac rehabilitation including what it is and what patients can expect.
What is Cardiac Rehab?
Doctors refer patients to cardiac rehab after they've experience a heart event such as a heart attack and/or bypass surgery. The program includes exercise and education sessions that patients attend three times a week for about 12 weeks depending on their individual needs.
"We aim to get patients started on an exercise program," Messimore says, "and talk to them about different aspects of heart health including nutrition, cholesterol and exercising at home."
What to Expect
Sessions are usually at least 30 minutes and include group exercise while staff members observe patients' vital signs via heart monitors. They then provide reports to the patient's physician so that any needs can be addressed.
"As a result of the group component, a lot of lifelong friendships have been made at cardiac rehab," Messimore says. "In addition to the physical benefits, it's a great support group. Not only are our staff members there to support patients, they cheer each other on as well!"
"The best part of my job is seeing patients' progress from their first session to their last," she says.
More Information
Cardiac rehabilitation at Hillcrest Claremore takes place in the medical office building behind the hospital in suite 190. To learn more, please call 918-342-7861.