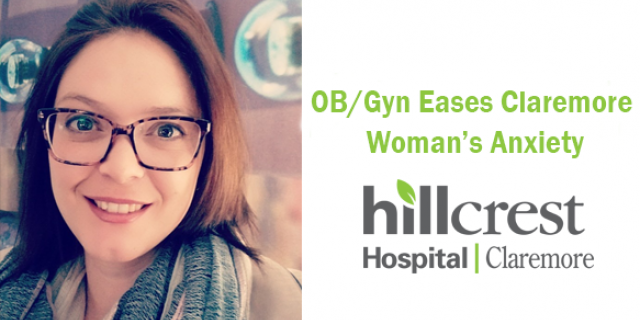 OB/Gyn Eases Claremore Woman's Anxiety
by

admin
Cherise Saltmarsh had been putting off a visit to the doctor -  something many people do from time to time. Whether you're busy raising children, working or you're bogged down with the daily busyness of life, sometimes you need to be reminded of how important it is to prioritize your health. 
Saltmarsh had been considering finding a new doctor when she was visiting a friend who just had a hysterectomy. Her friend was a patient of Ryan Gholson, M.D., an OB/Gyn with Utica Park Clinic and Hillcrest Hospital Claremore.
"I saw the level of care he gave her during her surgery and was impressed with the way he was so candid with her," Cherise said. "He was honest and I immediately felt comfortable with him.".
The following week, Cherise became a patient of Gholson's.
"The first time I stepped into his office, I had a lot of anxiety," she said. "I knew something wasn't right with me but sometimes, it's easier to ignore it rather than handle it."
Gholson spent a half an hour of that first appointment calming Cherise and encouraging her to breathe before reviewing medical history and performing a standard exam.
Cherise said that a large part of her anxiety was not in having the exam but rather in what the outcome of the exam might reveal. Gholson promised her she would get a phone call with the results as soon as he and his staff received them.
When Gholson's nurse called Cherise with the results, she was comforted by the fact that the staff called her as soon as they had the information they needed. The results came back abnormal, resulting in Cherise having to have a second biopsy and later, a hysterectomy at Hillcrest Hospital Claremore.
"Dr. Gholson and his nurse were so phenomenal and patient with me during my biopsies," Cherise said. "I was upset and they talked me through it and made sure I was breathing."
In the end, Cherise said how grateful she was to find a doctor who was patient with her and worked with her to manage her health.
To schedule an appointment with Gholson at Utica Park Clinic in Claremore, call 918-341-5200.